David's Recipe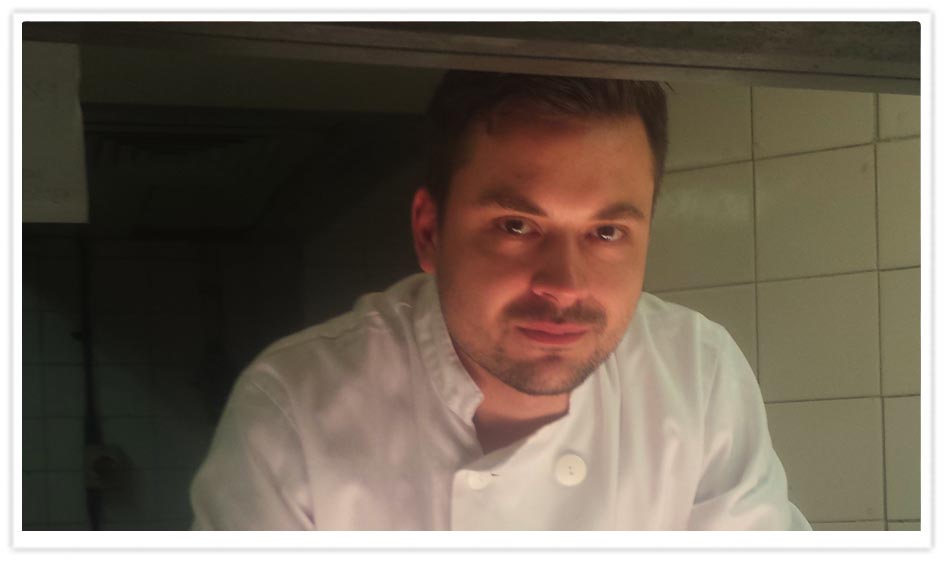 David's dish is simply stunning. A wonderful combination of local produce.

Potato Crisp, Potato Fondant, Confit Garlic, Pan Roasted Quail Breast and Potato & White Onion Puree
Potato Crisp
2 x Potatoes
Pinch of salt
1 x Mandolin
2 x Metal trays
Parchment paper
Peel the potatoes and slice as thinly as possible using the mandolin and mix with the salt. Leave for a couple of minutes to release the starch then fan out into a flower shape (as seen in picture) onto a tray lined with parchment paper. Top with another sheet of parchment paper and place the second tray on top. Place in preheated oven (170°c) for 10-12 minutes. Remove from oven and place to one side to cool.
Potato Fondants
3 x Potatoes
Pinch of salt
50g Unsalted Butter
100ml Chicken Stock
1 x Small Saucepan
Peel the potatoes and top & tail (cut off the ends). Cut into 2 (or 3 if big) round sections. Place into the pan and add enough of the stock to cover the potato. Add the butter and slowly bring to the boil. As soon as boiling temperature is reached remove from heat and leave to cook in residual heat.
Confit Garlic
3 x Garlic Cloves
Rapeseed Oil (enough to cover)
Place garlic cloves into a pan and cover with the oil. Heat to approx. 90°c. Remove from heat and leave to cool. Peel the garlic once cooled.
Potato and White Onion Puree
4 x Potatoes
1/2 White Onion
100ml Double Cream
Splash of Rapeseed Oil
Salt & Pepper (to season)
Peel and dice the potatoes, place into boiling water. While these are cooking slice the onion thinly and place in a hot saucepan with the rapeseed oil, cooking until soft and slightly caramelised in colour.
Drain the potatoes once cooked and place back into the pan adding the onions once cooked and pouring the double cream over. Bring to the boil. Once boiling temperature has been reached remove from heat and pour into a food processor. Blitz until smooth and season to taste.
Pan Roasted Quail Breast
2 x Quail Breasts
25g Unsalted Butter
Splash of Rapeseed Oil
Salt & Pepper (to season)
Place oil in a frying pan and bring to medium heat. Season the Quail breasts and place into the pan skin side down, cook for 3-4 minutes then turn. Place the butter into the pan and baste for a further 2-3 minutes. Once cooked remove the Quail breasts and leave to one side to rest for 2 minutes.
Finished dish to be garnished with mixed salad cress.