Galton's Recipe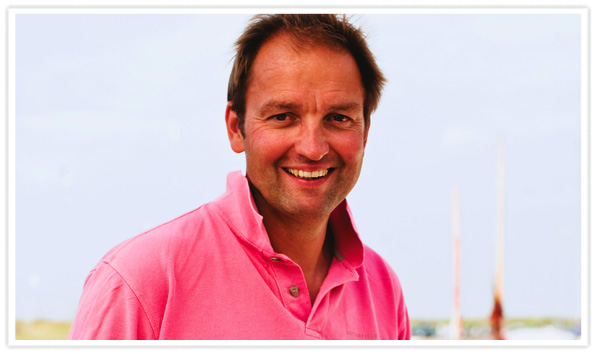 Ingredients
225g (8oz) samphire
500g (1lb 2oz) medium Norfolk Peer new potatoes, lightly scraped and quartered
A good sprig of mint
125g (4½oz) podded weight, fresh young broad beans
125g (4 ½ oz) shelled weight Norfolk grown peas (if unavailable use frozen petit pois)
2 shallots, finely chopped
2 garlic cloves, finely chopped
a little olive oil
large knob of unsalted butter
salt and freshly ground black pepper
Ingredients for the Bacon & Shallot Dressing
150g (5oz) smoked English streaky bacon, finely diced
2 small shallots, peeled and finely chopped
1 tbsp white wine vinegar
1 tbsp Dijon mustard
5 fl oz rapeseed oil
Salt and freshly ground black pepper
Norfolk Peer New Potatoes with Samphire, Broad Beans, Freshly Picked Norfolk Peas and a Bacon and Shallot Dressing
Galton Blackiston loves fresh Norfolk produce and uses our Norfolk potatoes in his Michelin Star restaurant Morston Hall. To help you make the very best use of fresh ingredients Galton has very kindly created this local recipe for us.
---
Method
Begin by preparing the samphire: strip the fronds from the main stalks, wash thoroughly and then blanch by plunging into unsalted, boiling water for 30 seconds. Refresh in iced water, drain thoroughly and set aside.
Place the new potatoes together with the sprig of mint in a large pan of salted water, bring to the boil and cook until just tender; drain thoroughly and discard the mint.
While the potatoes are cooking; bring a pan of salted water to a rolling boil, drop in the broad beans and blanch for about two minutes, refresh under cold running water, drain thoroughly, slip off the skins and set aside. Bring another pan of salted water to the boil and drop in the peas, cook for a couple of minutes, refresh under cold running water, drain and set aside.
Heat a large frying pan and fry the shallots and garlic in a little olive oil. Add the drained new potatoes and, with the pan still on the heat, continue to cook, shaking the pan as you do so until the potatoes are coloured all over. Add the samphire' broad beans, peas and, finally, a large knob of unsalted butter.
Season with salt and freshly ground black pepper, tossing thoroughly to make sure that everything is heated through. Serve immediately spooning over some bacon and shallot dressing generously (see below).
To serve, bacon and shallot dressing
Fry the bacon and shallots in a pan over a medium heat until the bacon is well cooked and the shallots softened. Remove from the pan and set aside.
In a bowl whisk together vinegar and Dijon mustard and then slowly whisk in the rapeseed oil. Stir in the fried bacon and shallots, season with salt and freshly ground black pepper and the dressing is ready.