Richard's Recipe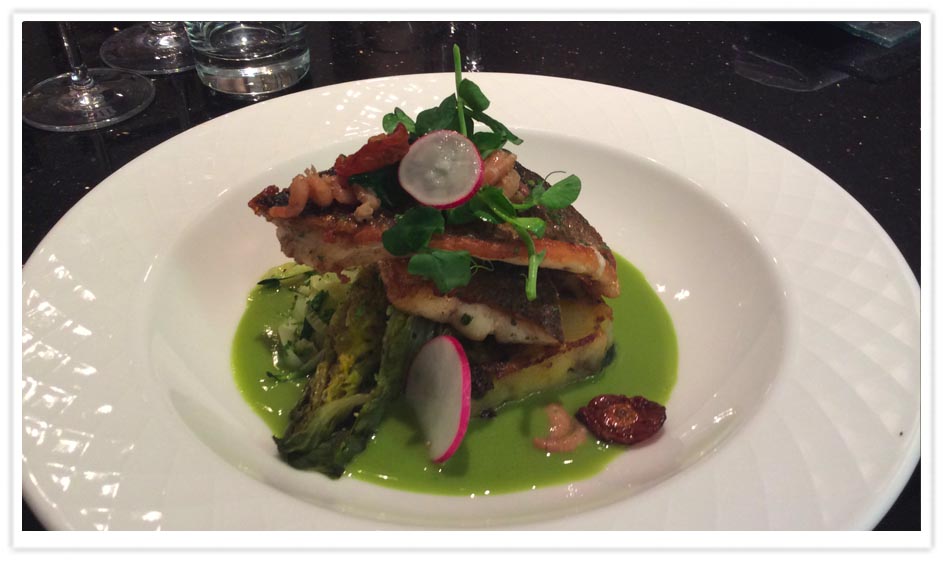 Richard is the Chef and Proprietor of The Lavender House restaurant Brundall, Norwich. A bustling restaurant, cookery school and training kitchen. Richard's 'Modern Norfolk' cooking is acclaimed by customers, both national and local press, and esteemed guide books.

Crispy Sea Bass Fillets, Norfolk Peer Potato Terrine, Lettuce, Pea & Mint Veloute
The Potato Terrine
500g Norfolk Peer Potatoes, cooked in boiling salted water
100g butter
100g baby leaf spinach, blanched and refreshed
25g oven dried cherry tomatoes
1. Cooked the potatoes, drain well, and whilst they are still warm, crush roughly with the end of a rolling pin.
2. Add the butter, spinach and tomatoes. Season well with sea salt and milled black pepper.
3. Place into a terrines mould, press and weigh it down, and leave overnight.
The Veloute
Large round lettuce, about 400g
50g of butter
2 shallots
500g shelled peas
Stock: chicken, vegetable or water
3 bushy sprigs of mint
4. Separate the lettuce leaves and stalks and wash thoroughly.
5. Melt the butter in a deep saucepan over a low to moderate heat.
6. Peel and slice the shallots thinly, then soften them in the butter.
7. When they are tender but have yet to colour, chop the lettuce up and stir it into the butter. When it has wilted, tip in the peas, the stock and the mint leaves and bring to the boil.
8. Turn the heat down, season with salt and black pepper and simmer for 7 to 10 minutes.
9. Remove the pan from the heat and blend the soup in a liquidiser.
10. Check the seasoning, then serve hot. This makes a beautiful cold soup, but you will need to chill quickly to preserve the vibrant green colour.
The sea bass
2 sea bass fillets, fillets and boned
Butter and flour
Wedge of baby gem lettuce, roasted or pan fried in butter
Peeled brown shrimps from Kings Lynn to garnish
12. Pan fry the sea bass fillets in the butter and skin side down for approx 2 minutes, until the skin is crisp. Turnover and cook for a further 2 minutes. Remove for the pan a keep warm. In the same pan add a little more butter ad fry the slice of potato terrine until golden brown, turning over just the once during cooking.
To assemble
13. Sit the cooked baby gem lettuce wedge on top of the potato terrine, top with the fish fillets.
14. Place the veloute into the base of the bowl, around the fish. Sprinkle on the warmed brown shrimps.